What will define an office space in the future evolves every day. And at Ivanhoé Cambridge, our Innovation team was already looking closely at the evolving user experience even before the global pandemic accelerated the need. With a focus on knowledge-gathering to future-proof the office environment, the team is exploring every possible way to create a frictionless and engaging journey for officegoers.
Led by François Lacoursière, Senior Vice President of Innovation and his team, Ivanhoé Cambridge is approaching innovation by relying on testing. The most efficient way to find the right solution faster to an identified need is to put it in the hands of the end user for gather feedback. "You can learn more by testing than by putting all your energy on a PowerPoint document beforehand," points out Lacoursière. A feedback and data gathering mechanism is key in giving users a chance to share their input, and, for the teams, the chance to learn and retrofit the solution to meet these needs as well as frame future deployments.
"There are real advantages to this approach," he explains. "Low initial investment risk for one—followed by short development time and a faster roll-out in the market. And we can improve the product with customer feedback as our guide. Their input is essential—everything we do in the office space is for these tenant partners and their employees."
The office is here to stay…
This innovation journey has led to some important learnings around the idea that, more than ever, businesses do not want a traditional office, they want an office that boosts productivity and cultivates a fulfilled workforce. How to get that? First of all, the new hybrid model has an upside – because employees come in less often, they will view their time there as significant, interactive time. "The hybrid reality has propelled a need to merge life at home and life at the office to make it work for you," says Lacoursière. The office becomes a place where a wider range of needs is met and everything happens conveniently and seamlessly: for example, public transportation is easily accessible and services like dry cleaning, food ordering and delivery, online courses, parking spaces reservation, real time air quality and density, and even tutoring for children is an option.
"Your needs as a parent, a citizen, a friend, an athlete – all these should be covered. And when you come to the office, you have the spaces and services you need to create and collaborate with colleagues. In fact, it becomes a hotbed of creativity while you're there because all your other needs are taken care of,"

— François Lacoursière Senior Vice President of Innovation
According to Lacoursière, now is the time to embrace this shift and build it out in the commercial real estate market – while constantly adapting and evolving our offer. "The range of post-pandemic needs has increased within the work-family balance, so all the human and personal dimensions become part of the office experience."
Debby Cordeiro, Ivanhoé Cambridge's Vice President of Communications and Public Affairs adds: "What it means to be in the office is changing and we need to focus on how this impacts the employee experience – for both our own workforce and that of our tenants. The office is increasingly a connector for a company's brand and an accelerator for its culture. Employees and guests alike come to our workspaces to reconnect and be more productive – this sparks an emotional connection with our built environment, our teams, and our brand. As a result, our spaces become an extension of our tenants' brands."
In addition to the power of the brand, "connecting with people is a powerful thing," she says. "It may seem obvious, but when sanitary conditions permit, being on-site and interacting with colleagues, partners, and peers in person makes a world of difference for building relationships, having a dialogue, creating, and bringing your corporate values to life. It reminds us that we are unified — part of something bigger than just ourselves. And that's a powerful thing we do not take lightly."
… But it needs to be future-proofed
Future-proofing the office is about driving efficiency for both the built environment and for tenants. Through smart and sustainable solutions, Ivanhoé Cambridge can help its operating teams improve the general functioning of the building; can better listen to and anticipate tenant needs; and, ultimately, give the tools to its asset managers to make informed decisions.
By coupling this with curated, accessible, and flexible spaces and services, Ivanhoé Cambridge is able to empower happier, healthier and more energized users.
"Our approach is simple: it is inspired by hospitality, enabled by technology, and driven by humans. Collecting and understanding supporting data at scale is key," says Lacoursière. "It's a must to engage users to pull the most value out of a building Their behaviors can tell a lot about their journey and the desired one."
There is also an increased demand from tenants for ESG-efficient spaces. This is not surprising because according to Lacoursière, future-proofing and ESG are natural companions.
"And ESG is a foundational part of our approach to innovation. With smart and sustainable building designs, we future-proof our buildings by making them more efficient."

— François Lacoursière Senior Vice President of Innovation
The 'social' aspect of sustainability is addressed through wellness and community engagement drivers. By making these digitally accessible, we are increasing tenant productivity and creating a stronger sense of community. "Virtually connecting tenants to these wellness initiatives and activities is therefore another way we are future-proofing our buildings," Lacoursière points out. "Of note, tenants are increasingly paying attention to wellness, sustainable and smart certifications—as these certifications serve as third-party validations that our buildings meet industry standards, which is reassuring for them."
Let's continue piloting…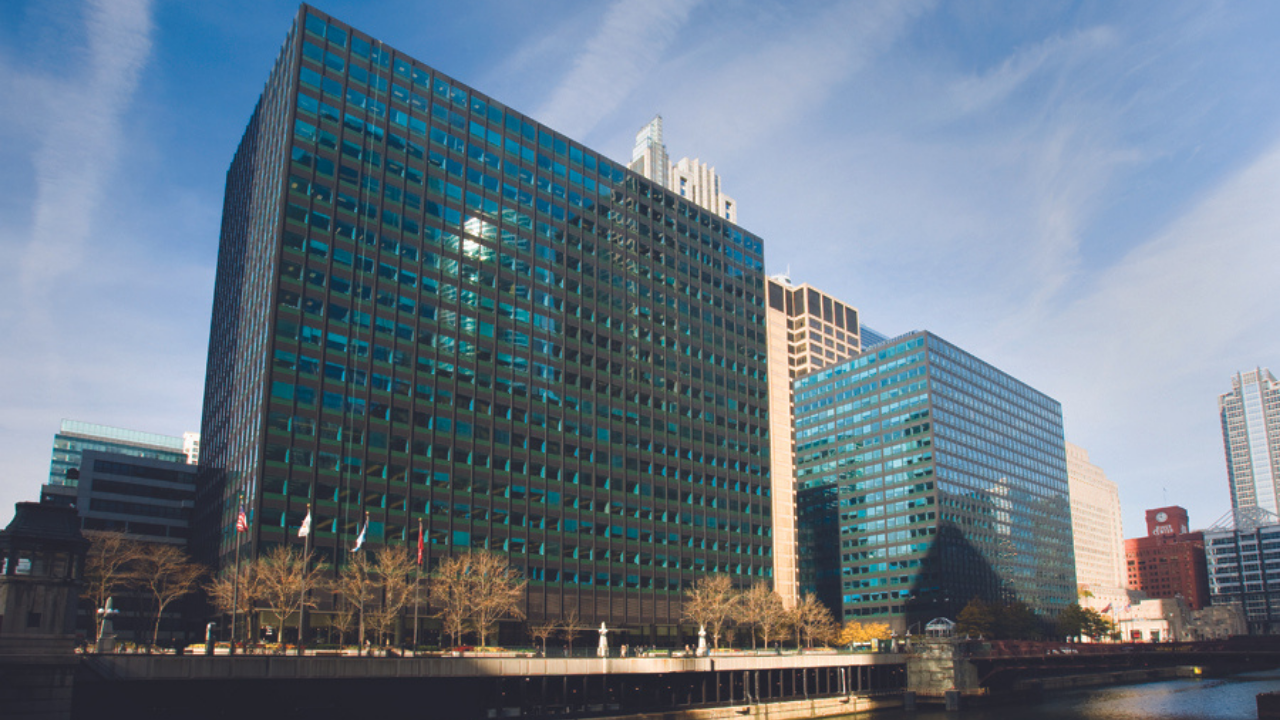 Three key properties were identified in which the future-proofing model is being validated. "Our proof-of-concept (POC) labs are operational across three sites: Place Ville Marie (PVM) and Édifice Jacques-Parizeau (EJP) in Montreal and 10 & 120 South Riverside Plaza in Chicago. We're observing different elements in each lab," Lacoursière explains.
At PVM, we'll focus on measuring which offers bring the most value to tenants and the community, such as flex space . Through a pilot project with WeWork, the first of its kind at the PVM campus, the team wants to learn about what tenants need in a flexible space to support collaboration, offer a curated experience, drive innovation, and strengthen corporate culture within tenant organizations.
At Ivanhoé Cambridge's headquarters, the EJP building, the focus will be on what drives productivity. With the unique opportunity to get feedback directly from its own workforce, the team will collect data to measure productivity impacts.
At 10 & 120 Riverside Plaza in Chicago, the team will be piloting and measuring how a collection of wellness and sustainability-driven use cases come together in a single ecosystem through more smart building components.
"The industry has this saying that 'each property is a snowflake'—the idea that they seem the same but when you look closer, there are myriad differences and specificities. Our conviction focuses on the similarities between each property to facilitate and accelerate change at scale while growing our confidence in the ROI."

— François Lacoursière Senior Vice President of Innovation
"Right now, we're only just writing the intro to an exciting book—even if the story is well underway."