Do You Miss The Office?
The events of the past year have changed our work habits, but some experts saw the changes coming and were already thinking about them. As part of the "Do You Miss The Office?" series, which aims to redefine the form and function of offices during this turbulent time, Annie Bergeron meets with Sylvain Fortier, Chief Investment and Innovation Officer at Ivanhoé Cambridge.
This week, Mr. Fortier discusses the importance of micro-interactions at the office, the relevance of neighbourhood life, employees' new expectations and the various innovations employers will need to think about to retain their talent.
---
Host
Annie Bergeron
Design Director and Principal at Gensler
Guest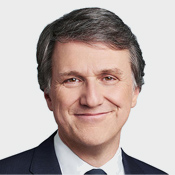 Sylvain Fortier
Chief Investment and Innovation Officer at Ivanhoé Cambridge